Pendekatan Multiperspektif Dalam Manajemen Penyakit Asma
Kata Kunci:
asma, tata laksana, nanoteknologi
Abstrak
Asma adalah suatu gangguan inflamasi kronis di saluran pernapasan. Tulisan ilmiah ini bertujuan untuk menjelaskan penyakit asma secara komprehensif, mencakup epidemiologi, etiologi, diet dan nutrisi, faktor genetik dan epigenetic, patofisiologi, penilaian kontrol asma, berikut tata laksana serta tren perkembangan terapi pada masa yang akan datang seperti penggunaan nanoteknologi.
Referensi
Ong KY. What's new in the Global Initiative for Asthma 2018 report and beyond. Allergo Journal International. 2019;28(2):63-72.
Louis R, Satia I, Ojanguren I, Schleich F, Bonini M, Tonia T, et al. European Respiratory Society guidelines for the diagnosis of asthma in adults. European Respiratory Journal. 2022;60(3):2101585.
Heijink IH, Kuchibhotla VN, Roffel MP, Maes T, Knight DA, Sayers I, et al. Epithelial cell dysfunction, a major driver of asthma development. Allergy. 2020;75(8):1902-17.
Saglani S, Lloyd CM. Novel concepts in airway inflammation and remodelling in asthma. European Respiratory Journal. 2015;46(6):1796-804.
Michaeloudes C, Abubakar-Waziri H, Lakhdar R, Raby K, Dixey P, Adcock IM, et al. Molecular mechanisms of oxidative stress in asthma. Molecular Aspects of Medicine. 2021:101026.
Ferrante G, La Grutta S. The burden of pediatric asthma. Frontiers in pediatrics. 2018;6:186.
Vos T, Lim SS, Abbafati C, Abbas KM, Abbasi M, Abbasifard M, et al. Global burden of 369 diseases and injuries in 204 countries and territories, 1990–2019: a systematic analysis for the Global Burden of Disease Study 2019. The Lancet. 2020;396(10258):1204-22.
Ren J, Xu J, Zhang P, Bao Y. Prevalence and risk factors of asthma in preschool children in Shanghai, China: A cross-sectional study. Frontiers in pediatrics. 2022;9:793452.
Rahimian N, Aghajanpour M, Jouybari L, Ataee P, Fathollahpour A, Lamuch-Deli N, et al. The Prevalence of Asthma among Iranian Children and Adolescent: A Systematic Review and Meta-Analysis. Oxidative Medicine and Cellular Longevity. 2021;2021.
Jackson DJ, Gern JE. Rhinovirus infections and their roles in asthma: etiology and exacerbations. The Journal of Allergy and Clinical Immunology: In Practice. 2022;10(3):673-81.
Kwong CG, Bacharier LB. Phenotypes of wheezing and asthma in preschool children. Current opinion in allergy and clinical immunology. 2019;19(2):148.
Vassilopoulou E, Guibas GV, Papadopoulos NG. Mediterranean-Type Diets as a Protective Factor for Asthma and Atopy. Nutrients. 2022;14(9):1825.
Baïz N, Just J, Chastang J, Forhan A, de Lauzon-Guillain B, Magnier A-M, et al. Maternal diet before and during pregnancy and risk of asthma and allergic rhinitis in children. Allergy, Asthma & Clinical Immunology. 2019;15(1):1-10.
Shen SY, Xiao WQ, Lu JH, Yuan MY, He JR, Xia HM, et al. Early life vitamin D status and asthma and wheeze: a systematic review and meta-analysis. BMC pulmonary medicine. 2018;18(1):1-18.
Hernandez-Pacheco N, Pino-Yanes M, Flores C. Genomic predictors of asthma phenotypes and treatment response. Frontiers in pediatrics. 2019;7:6.
Schoettler N, Rodríguez E, Weidinger S, Ober C. Advances in asthma and allergic disease genetics: Is bigger always better? Journal of Allergy and Clinical Immunology. 2019;144(6):1495-506.
Ziani M, Henry AP, Hall IP. Association study between asthma and single nucleotide polymorphisms of ORMDL3, GSDMB, and IL1RL1 genes in an Algerian population. Egyptian Journal of Medical Human Genetics. 2021;22(1):1-7.
Morales E, Duffy D. Genetics and gene-environment interactions in childhood and adult onset asthma. Frontiers in pediatrics. 2019;7:499.
Kapitein B, Hoekstra MO, Nijhuis E, Hijnen D, Arets H, Kimpen J, et al. Gene expression in CD4+ T-cells reflects heterogeneity in infant wheezing phenotypes. European Respiratory Journal. 2008;32(5):1203-12.
Klaassen EM, van de Kant KD, Jöbsis Q, van Schayck OC, Smolinska A, Dallinga JW, et al. Exhaled biomarkers and gene expression at preschool age improve asthma prediction at 6 years of age. American journal of respiratory and critical care medicine. 2015;191(2):201-7.
Bush A. Pathophysiological mechanisms of asthma. Frontiers in pediatrics. 2019;7:68.
Brannan J, Lougheed MD. Airway Hyperresponsiveness in Asthma: Mechanisms, Clinical Significance, and Treatment. Frontiers in Physiology. 2012;3.
Yang Z, Zhuang J, Zhao L, Gao X, Luo Z, Liu E, et al. Roles of Bronchopulmonary C-fibers in airway Hyperresponsiveness and airway remodeling induced by house dust mite. Respiratory Research. 2017;18(1):199.
Murphy RC, Lai Y, Nolin JD, Aguillon Prada RA, Chakrabarti A, Novotny MV, et al. Exercise-induced alterations in phospholipid hydrolysis, airway surfactant, and eicosanoids and their role in airway hyperresponsiveness in asthma. American Journal of Physiology-Lung Cellular and Molecular Physiology. 2021;320(5):L705-L14.
Gans MD, Gavrilova T. Understanding the immunology of asthma: pathophysiology, biomarkers, and treatments for asthma endotypes. Paediatric Respiratory Reviews. 2020;36:118-27.
Papaioannou AI, Fouka E, Ntontsi P, Stratakos G, Papiris S. Paucigranulocytic Asthma: Potential Pathogenetic Mechanisms, Clinical Features and Therapeutic Management. Journal of Personalized Medicine. 2022;12(5):850.
Doeing DC, Solway J. Airway smooth muscle in the pathophysiology and treatment of asthma. Journal of applied physiology. 2013;114(7):834-43.
Simon D. Recent advances in clinical allergy and immunology. International archives of allergy and immunology. 2018;177(4):324-33.
Fang L, Sun Q, Roth M. Immunologic and non-immunologic mechanisms leading to airway remodeling in asthma. International journal of molecular sciences. 2020;21(3):757.
Yang Y, Jia M, Ou Y, Adcock IM, Yao X. Mechanisms and biomarkers of airway epithelial cell damage in asthma: A review. The Clinical Respiratory Journal. 2021;15(10):1027-45.
Rutting S, Thamrin C, Cross TJ, King GG, Tonga KO. Fixed Airflow Obstruction in Asthma: A Problem of the Whole Lung Not of Just the Airways. Frontiers in Physiology. 2022:949.
Fehrenbach H, Wagner C, Wegmann M. Airway remodeling in asthma: what really matters. Cell and tissue research. 2017;367(3):551-69.
Hough KP, Curtiss ML, Blain TJ, Liu R-M, Trevor J, Deshane JS, et al. Airway remodeling in asthma. Frontiers in Medicine. 2020;7:191.
Coale JA, Ambrosi A, Denault DL, Diallo SN. Pulmonary System. Clinical Medicine for Physician Assistants. 2022:123.
Nourian Dehkordi A, Mirahmadi Babaheydari F, Chehelgerdi M, Raeisi Dehkordi S. Skin tissue engineering: wound healing based on stem-cell-based therapeutic strategies. Stem Cell Research & Therapy. 2019;10(1):111.
Joseph C, Tatler AL. Pathobiology of Airway Remodeling in Asthma: The Emerging Role of Integrins. Journal of Asthma and Allergy. 2022;15:595-610.
Cloonan SM, Kim K, Esteves P, Trian T, Barnes PJ. Mitochondrial dysfunction in lung ageing and disease. European Respiratory Review. 2020;29(157):200165.
Delmotte P, Marin Mathieu N, Sieck GC. TNFα induces mitochondrial fragmentation and biogenesis in human airway smooth muscle. American Journal of Physiology-Lung Cellular and Molecular Physiology. 2021;320(1):L137-51.
Zhou WC, Qu J, Xie SY, Sun Y, Yao HW. Mitochondrial dysfunction in chronic respiratory diseases: implications for the pathogenesis and potential therapeutics. Oxidative Medicine and Cellular Longevity. 2021;2021.
Eldridge L, Wagner EM. Angiogenesis in the lung. The Journal of physiology. 2019;597(4):1023-32.
Bajbouj K, Ramakrishnan RK, Hamid Q. Role of Matrix Metalloproteinases in Angiogenesis and Its Implications in Asthma. Journal of Immunology Research. 2021;2021.
Ding Z, Yu F, Sun Y, Jiao N, Shi L, Wan J, et al. ORMDL3 Promotes Angiogenesis in Chronic Asthma Through the ERK1/2/VEGF/MMP-9 Pathway. Front Pediatr. 2021;9:708555.
Kim EJ, Lee H, Lee Y-J, Sonn JK, Lim Y-B. Ionizing Radiation regulates vascular endothelial growth factor-A transcription in cultured human vascular endothelial cells via the PERK/eIF2α/ATF4 pathway. International Journal of Radiation Oncology* Biology* Physics. 2020;107(3):563-70.
Chen J, Miller M, Unno H, Rosenthal P, Sanderson MJ, Broide DH. Orosomucoid-like 3 (ORMDL3) upregulates airway smooth muscle proliferation, contraction, and Ca2+ oscillations in asthma. Journal of Allergy and Clinical Immunology. 2018;142(1):207-18. e6.
Reddel HK, Bacharier LB, Bateman ED, Brightling CE, Brusselle GG, Buhl R, et al. Global Initiative for Asthma Strategy 2021: Executive Summary and Rationale for Key Changes. Am J Respir Crit Care Med. 2022;205(1):17-35.
Richards JC, Lynch D, Koelsch T, Dyer D. Imaging of asthma. Immunology and Allergy Clinics. 2016;36(3):529-45.
Ullmann N, Mirra V, Di Marco A, Pavone M, Porcaro F, Negro V, et al. Asthma: differential diagnosis and comorbidities. Frontiers in pediatrics. 2018;6:276.
Reddel HK, Bacharier LB, Bateman ED, Brightling CE, Brusselle GG, Buhl R, et al. Global Initiative for Asthma Strategy 2021: executive summary and rationale for key changes. Eur Respir J. 2022;59(1).
Cheng WC, Chen CH. Nanotechnology bring a new hope for asthmatics. Ann Transl Med. 2019;7(20):516.
Xia W, Tao Z, Zhu B, Zhang W, Liu C, Chen S, et al. Targeted Delivery of Drugs and Genes Using Polymer Nanocarriers for Cancer Therapy. Int J Mol Sci. 2021;22(17):9118.
Patra JK, Das G, Fraceto LF, Campos EVR, Rodriguez-Torres MdP, Acosta-Torres LS, et al. Nano based drug delivery systems: recent developments and future prospects. Journal of nanobiotechnology. 2018;16(1):1-33.
Fu X, Shi Y, Qi T, Qiu S, Huang Y, Zhao X, et al. Precise design strategies of nanomedicine for improving cancer therapeutic efficacy using subcellular targeting. Signal transduction and targeted therapy. 2020;5(1):1-15.
Lipworth BJ. Treatment of acute asthma. The Lancet. 1997;350:S18-23.
He S, Gui J, Xiong K, Chen M, Gao H, Fu Y. A roadmap to pulmonary delivery strategies for the treatment of infectious lung diseases. Journal of Nanobiotechnology. 2022;20(1):1-22.
Patel R, Naqvi SA, Griffiths C, Bloom CI. Systemic adverse effects from inhaled corticosteroid use in asthma: a systematic review. BMJ Open Respir Res. 2020;7(1): e000756.
Williams DM. Clinical pharmacology of corticosteroids. Respiratory care. 2018;63(6):655-70.
Wang L, Feng M, Li Q, Qiu C, Chen R. Advances in nanotechnology and asthma. Annals of translational medicine. 2019;7(8):180.
Li X, Naeem A, Xiao S, Hu L, Zhang J, Zheng Q. Safety challenges and application strategies for the use of dendrimers in medicine. Pharmaceutics. 2022;14(6):1292.
Karthikeyan A, Senthil N, Min T. Nanocurcumin: A Promising Candidate for Therapeutic Applications. Front Pharmacol. 2020;11:487.
Liu D, Long M, Gao L, Chen Y, Li F, Shi Y, et al. Nanomedicines Targeting Respiratory Injuries for Pulmonary Disease Management. Advanced Functional Materials. 2022;32(22):2112258.
Ballester M, Jeanbart L, de Titta A, Nembrini C, Marsland BJ, Hubbell JA, et al. Nanoparticle conjugation enhances the immunomodulatory effects of intranasally delivered CpG in house dust mite-allergic mice. Sci Rep. 2015;5(1):14274.
Gamazo C, Pastor Y, Larrañeta E, Berzosa M, Irache JM, Donnelly RF. Understanding the basis of transcutaneous vaccine delivery. Therapeutic delivery. 2019;10(1):63-80.
Givens BE, Geary SM, Salem AK. Nanoparticle-based CpG-oligonucleotide therapy for treating allergic asthma. Immunotherapy. 2018;10(7):595-604.
Grozdanovic M, Laffey KG, Abdelkarim H, Hitchinson B, Harijith A, Moon H-G, et al. Novel peptide nanoparticle–biased antagonist of CCR3 blocks eosinophil recruitment and airway hyperresponsiveness. Journal of Allergy and Clinical Immunology. 2019;143(2):669-80. e12.
Roma-Rodrigues C, Rivas-García L, Baptista PV, Fernandes AR. Gene Therapy in Cancer Treatment: Why Go Nano? Pharmaceutics. 2020;12(3):233.
Ahmad A. Pharmacological Strategies and Recent Advancement in Nano-Drug Delivery for Targeting Asthma. Life. 2022;12(4):596.
Zhu X, Cui J, Yi L, Qin J, Tulake W, Teng F, et al. The role of T cells and macrophages in asthma pathogenesis: a new perspective on mutual crosstalk. Mediators of Inflammation. 2020;2020:7835284.
Trivedi M, Denton E. Asthma in Children and Adults-What Are the Differences and What Can They Tell us About Asthma? Front Pediatr. 2019;7:256.
Cevhertas L, Ogulur I, Maurer DJ, Burla D, Ding M, Jansen K, et al. Advances and recent developments in asthma in 2020. Allergy. 2020;75(12):3124-46.
O'Byrne P, Fabbri LM, Pavord ID, Papi A, Petruzzelli S, Lange P. Asthma progression and mortality: the role of inhaled corticosteroids. Eur Respir J. 2019;54(1):1900491.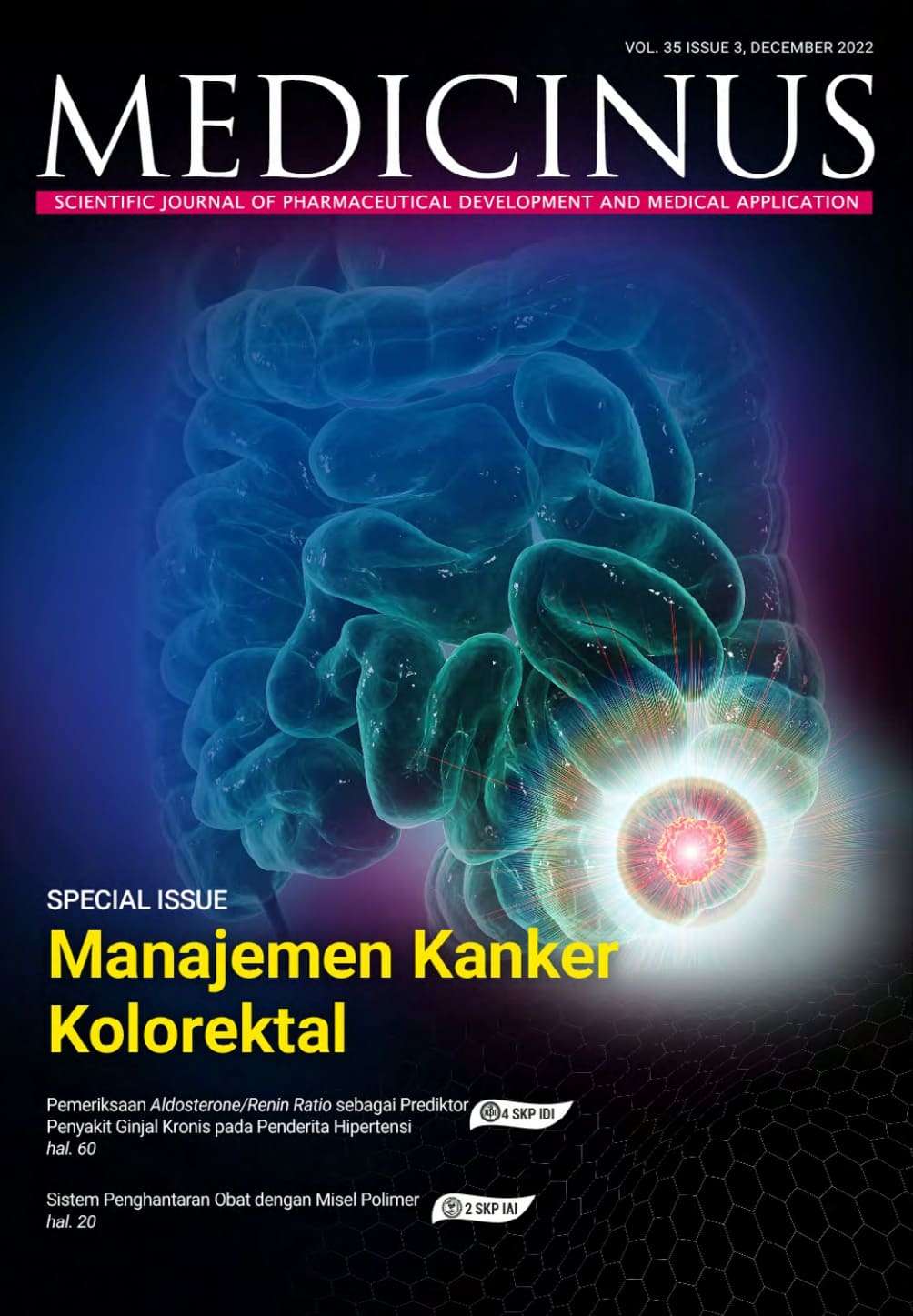 Unduhan
Cara Mengutip
[1]
Dito Anurogo. Pendekatan Multiperspektif Dalam Manajemen Penyakit Asma. MEDICINUS 2022;35:69-80. https://doi.org/10.56951/medicinus.v35i3.108.