Laporan Kasus Terapi Kombinasi Kuretase dan Cimetidine Oral pada Pasien Moluskum Kontangiosium
Kata Kunci:
imunokompeten, moluskum kontagiosum, kuretase, cimetidine
Abstrak
Latar belakang: Moluskum kontagiosum merupakan penyakit pada kulit yang disebabkan oleh infeksi poxvirus. Penularan penyakit ini dapat terjadi melalui kontak kulit dan membran mukosa secara langsung, termasuk melalui hubungan seksual, maupun melalui benda yang terkontaminasi. Prevalensi moluskum kontagiosum yang ditransmisikan secara seksual meningkat dalam beberapa tahun terakhir. Penyakit ini menimbulkan kecemasan dan rasa tidak nyaman bagi penderita. Diagnosis moluskum kontagiosum didasarkan pada hasil anamnesis, pemeriksaan fisik, pemeriksaan dermoskopi, dan pemeriksaan histopatologi. Penegakan diagnosis dan tata laksana yang tepat dapat membantu menurunkan risiko kekambuhan pada masa yang akan datang. Kasus: Seorang perempuan 26 tahun dengan keluhan utama timbul bintil-bintil berwarna putih mengkilat pada paha dan bokong yang tidak terasa gatal ataupun nyeri sejak 3 bulan yang lalu. Awalnya muncul 4 buah bintil di bagian bokong saja, namun sejak 1 bulan terakhir bintil bertambah banyak dan muncul juga di bagian paha. Pasien pernah berusaha memencet bintil tersebut dan keluar padatan berwarna putih seperti nasi. Pasien memiliki riwayat berhubungan seksual tanpa kondom sebelumnya. Dari hasil pemeriksaan dermatologis didapatkan pada regio femoralis dextra et sinistra serta gluteus tampak papul multipel berwarna putih mengkilat seperti mutiara, berukuran 0,1-0,5cm, permukaan halus, berbatas tegas, berbentuk seperti kubah dengan cekungan di tengahnya (delle), dengan sebaran diskret. Pada pemeriksaan dermoskopi tampak gambaran poli lobular berwarna putih hingga kuning disertai crown vessel. Pemeriksaan histopatologi menunjukkan gambaran badan inklusi eosinofil intrasitoplasma (molluscum bodies). Diskusi: Adanya temuan klinis berupa papul multipel dengan sebaran diskret, berwarna seperti mutiara berbentuk kubah dengan lekukan di tengahnya (delle) merupakan tanda khas pada kasus moluskum kontagiosum. Hasil pemeriksaan dermoskopi serta gambaran histopatologi mendukung diagnosis ini. Tata laksana dilakukan dengan tindakan kuretase pada lesi serta pemberian terapi cimetidine oral 2x800 mg selama 2 bulan. Tidak terjadi kekambuhan dalam periode follow-up selama 5 bulan.
Unduhan
Referensi
Lozano A, Arora A, Mendoza N, Madkan V, Trying K. Viral infections. In: Therapy of skin disease. Krieg T, Bickers DR, Miyachi Y, editors. 1st Ed. Berlin: Springer; 2010:p.157-63. DOI: https://doi.org/10.1007/978-3-540-78814-0_16
Zaidi Z, Hussain K, Sudhakaran S. Molluscum contagiosum. In: Treatment of skin disease: A practical guide. Zaidi Z, Hussain K, Sudhakaran S, editors. 1st Ed. Cham: Springer International Publishing; 2019:p.109-10. DOI: https://doi.org/10.1007/978-3-319-89581-9
Haddock ES, Friedlander SF. Poxvirus infections. In: Fitzpatrick's Dermatology. Kang S, Amagai M, Bruckner AN, Enk AH, Margolis DJ, McMichael AJ, et al, editors. 9th Ed. New York: McGraw-Hill; 2019:pp.3065-94.
Laxmisha C, Thappa DM, Jaisankar TJ. Clinical profile of molluscum contagiosum in children versus adults. Dermatol Online J. 2003;9(5):1-3. DOI: https://doi.org/10.5070/D3308500HV
Ianhez M, Cestari Sda C, Enokihara MY, Seize MB. Dermoscopic patterns of molluscum contagiosum: A study of 211 lesions confirmed by histopathology. An Bras Dermatol. 2011;86(1):74-9. DOI: https://doi.org/10.1590/S0365-05962011000100009
Zaballos P, Ara M, Puig S, Malvehy J. Dermoscopy of molluscum contagiosum: A useful tool for clinical diagnosis in adulthood. J Eur Acad Dermatol Venereol. 2006;20(4):482-3. DOI: https://doi.org/10.1111/j.1468-3083.2006.01480.x
Yassin M. Atypical clinical presentation of molluscum contagiosum. Al-Kindy Col Med J. 2012;8(2):18-27.
Nguyen HP, Franz E, Stiegel KR, Hsu S, Tyring SK. Treatment of molluscum contagiosum in adult, pediatric, and immunodeficient populations. J Cutan Med Surg. 2014;18(5):299-306. DOI: https://doi.org/10.2310/7750.2013.13133
Leung AKC, Barankin B, Hon KLE. Molluscum contagiosum: An update. Recent Pat Inflamm Allergy Drug Discov. 2017;11(1):22-31 DOI: https://doi.org/10.2174/1872213X11666170518114456
Robinson G, Townsend S, Jahnke MN. Molluscum contagiosum: Review and update on clinical presentation, diagnosis, risk, prevention, and treatment. Curr Derm Rep. 2020;9:83-92. DOI: https://doi.org/10.1007/s13671-020-00289-z
Meza-Romero R, Navarrete-Dechent C, Downey C. Molluscum contagiosum: An update and review of new perspectives in etiology, diagnosis, and treatment. Clin Cosmet Investig Dermatol. 2019;12:373-81. DOI: https://doi.org/10.2147/CCID.S187224
Sharquie K, Hameed A, Abdulwahhab W. Pathogenesis of molluscum contagiosum: A new concept for the spontaneous involution of the disease. Our Dermatol Online. 2015;6(3):265-9. DOI: https://doi.org/10.7241/ourd.20153.72
Badri T, Gandhi GR. Molluscum contagiosum. Dalam: StatPearls Treasure Island. Florida: StatPearls Publishing;2021:p.1-11.
Trčko K, Hošnjak L, Kušar B, Zorec TM, Kocjan BJ, Križmarić M, dkk. Clinical, histopathological, and virological evaluation of 203 patients with a clinical diagnosis of molluscum contagiosum. Open Forum Infect. Dis. 2018;5(11):1-5. DOI: https://doi.org/10.1093/ofid/ofy298
Vermi W, Fisogni S, Salogni L, Schärer L, Kutzner H, Sozzani S, dkk. Spontaneous regression of highly immunogenic molluscum contagiosum virus (MCV)-induced skin lesions is associated with plasmacytoid dendritic cells and IFN-DC infiltration. J Invest Dermatol. 2011;131(2):426-34. DOI: https://doi.org/10.1038/jid.2010.256
Srikanth S, Anandam G, Kumari BS, Sreelatha K, Suhela. Molluscum contagiosum: Study of four cases. Med J DY Patil Vidyapeeth. 2014;7(3):366-8. DOI: https://doi.org/10.4103/0975-2870.128985
Zalaudek I, Argenziano G, Di Stefani A, Ferrara G, Marghoob AA, Hofmann-Wellenhof R, dkk. Dermoscopy in general dermatology. Dermatology. 2006;212(1):7–18. DOI: https://doi.org/10.1159/000089015
Jang HS, Kim MR, Oh SH. Unusual manifestation of molluscum contagiosum: Eruptive papules on the face and neck of immunocompetent patient. Ann Dermatol. 2013;25(3):398-99. DOI: https://doi.org/10.5021/ad.2013.25.3.398
Pavithra S, Mallya H, Pai GS. Extensive presentation of verruca plana in a healthy individual. Indian J Dermatol. 2011;56(3):324-5. DOI: https://doi.org/10.4103/0019-5154.82495
Prieto-Granada CN, Lobo AZC, Mihm MC. Skin infection. Dalam: Diagnostic pathology of infectious disease. Edisi ke-2. Kradin RL, penyunting. Amsterdam: Elvesier Publisher. 2018: p.542-647. DOI: https://doi.org/10.1016/B978-0-323-44585-6.00020-5
Mohan RP, Verma S, Singh AK, Singh U. Molluscum contagiosum: Report of one case with overview. BMJ Case Rep. 2013;6:1-3. DOI: https://doi.org/10.1136/bcr-2013-008744
Hanna D, Hatami A, Powell J, Marcoux D, Maari C, Savard P, dkk. A prospective randomized trial comparing the efficacy and adverse effects of four recognized treatments of molluscum contagiosum in children. Pediatr Dermatol. 2006;23(6):574-9. DOI: https://doi.org/10.1111/j.1525-1470.2006.00313.x
Gerlero P, Hernández-Martín Á. Update on the treatment of molluscum contagiosum in children. Actas Dermosifiliogr. 2018;109(5):408-15. DOI: https://doi.org/10.1016/j.adengl.2018.04.016
Simonart T, De Maertelaer V. Curettage treatment for molluscum contagiosum: A follow-up survey study. Br J Dermatol. 2008;159(5):1144-7. DOI: https://doi.org/10.1111/j.1365-2133.2008.08833.x
Harel A, Kutz AM, Hadj-Rabia S, Mashiah J. To treat molluscum contagiosum or not-curettage: An effective, well-accepted treatment modality. Pediatr Dermatol. 2016;33(6):640–5. DOI: https://doi.org/10.1111/pde.12968
Coyner T. Molluscum contagiosum: A review for healthcare providers. Dermatol nurs. 2020;12(3):115-20. DOI: https://doi.org/10.1097/JDN.0000000000000534
Dohil M, Prendiville JS. Treatment of molluscum contagiosum with oral cimetidine: Clinical experience in 13 patients. Pediatr Dermatol. 1996;13(4):310-2. DOI: https://doi.org/10.1111/j.1525-1470.1996.tb01247.x
Antony F, Cliff S, Ahmad A, Holden C. Double-blind placebo-controlled study of oral cimetidine treatment for molluscum contagiosum. Br J Dermatol. 2001;145(59):122-9.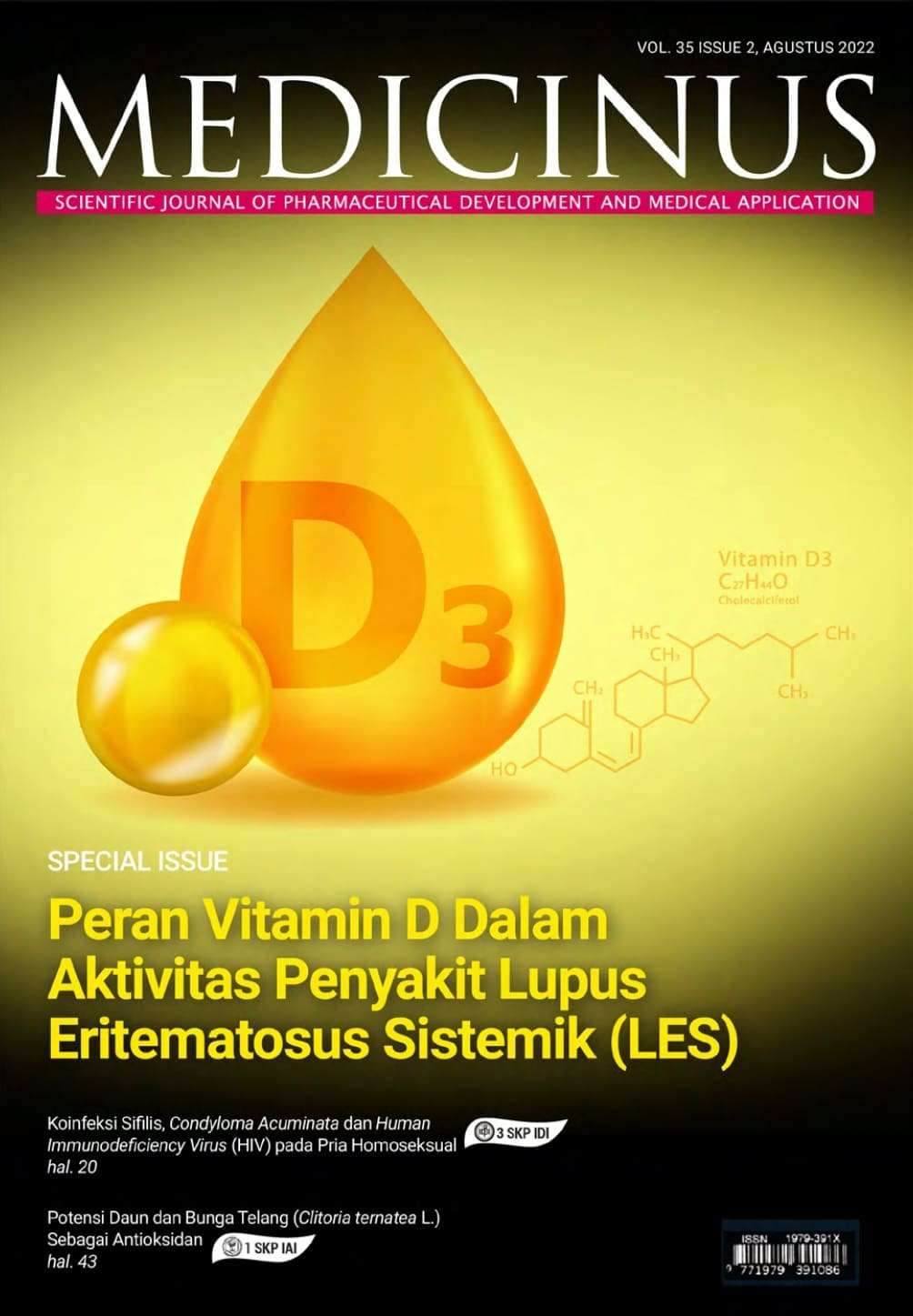 Unduhan
Unduhan
Data unduhan tidak tersedia.