Peran Vitamin D dalam Aktivitas Penyakit Lupus Eritematosus Sistemik (LES)
Kata Kunci:
vitamin D, LES, aktivitas penyakit
Abstrak
Lupus eritematosus sistemik (LES) merupakan suatu penyakit autoimun sistemik yang menyebabkan terjadinya disregulasi yang luas pada sistem imun. Penyakit ini memiliki patofisiologi yang kompleks karena adanya interaksi antarfaktor yang dapat menghasilkan respons imun yang abnormal. Respons imun yang abnormal ini mengakibatkan timbulnya reaksi inflamasi di berbagai organ yang berujung pada terjadinya kerusakan jaringan dan organ. Studi menunjukkan bahwa vitamin D memiliki aktivitas sebagai imunomodulator sehingga berpotensi menjadi bagian dari tata laksana kasus LES. Potensi suplementasi vitamin D dalam perbaikan klinis pasien LES telah cukup banyak diteliti. Dalam beberapa studi, dijumpai efek positif dari pemberian suplementasi vitamin D pada pasien LES. Hal ini berkaitan dengan kondisi defisiensi vitamin D yang diketahui berasosiasi dengan aktivitas penyakit LES serta frekuensi eksaserbasi. Vitamin  dalam bentuk aktifnya, calcitriol, juga diketahui memiliki peran penting dalam patogenesis LES. Suplementasi vitamin D dilaporkan dapat membantu mengurangi aktivitas penyakit serta memperbaiki kondisi klinis pasien LES.
Referensi
Thanou A, Jupe E, Purushothaman M, Niewold TB, Munroe ME. Clinical disease activity and flare in SLE: Current concepts and novel biomarkers. J Autoimmun. 2021;119:102615. DOI: https://doi.org/10.1016/j.jaut.2021.102615
Mok CC. Vitamin D and systemic lupus erythematosus: An update. Expert Rev Clin Immunol. 2013;9(5):453-63. DOI: https://doi.org/10.1586/eci.13.19
Handel AE, Handunnetthi L, Ebers GC, Ramaǵopalan SV. Type 1 diabetes mellitus and multiple sclerosis: Common etiological features. Nat Rev Endocrinol. 2009;5(12):655-64. DOI: https://doi.org/10.1038/nrendo.2009.216
Iruretagoyena M, Hirigoyen D, Naves R, Burgos PI. Immune response modulation by Vitamin D: Role in systemic lupus erythematosus. Front Immunol. 2015;6:513. DOI: https://doi.org/10.3389/fimmu.2015.00513
Charoenngam N. Vitamin D and rheumatic diseases: A review of clinical evidence. Int J Mol Sci. 2021;22(19):10659. DOI: https://doi.org/10.3390/ijms221910659
Tripkovic L, Lambert H, Hart K, Smith CP, Bucca G, Penson S, et al. Comparison of vitamin D2 and vitamin D3 msupplementation in raising serum 25-hydroxyvitamin D status: A systematic review and meta-analysis. Am J Clin Nutr. 2012;95(6):1357-64. DOI: https://doi.org/10.3945/ajcn.111.031070
Bikle DD. Vitamin D metabolism, mechanism of action, and clinical applications. Chem Biol. 2014;21(3):319–29. DOI: https://doi.org/10.1016/j.chembiol.2013.12.016
Lips P. Vitamin D physiology. Progress in Biophysics and Molecular Biology 2006;92(1):4–8. DOI: https://doi.org/10.1016/j.pbiomolbio.2006.02.016
Kuo CF, Grainge MJ, Valdes AM, See LC, Luo SF, Yu KH, et al. Familial aggregation of systemic lupus erythematosus and co-aggregation of autoimmune diseases in affected families. JAMA Intern Med. 2015;175(9):1518-26. DOI: https://doi.org/10.1001/jamainternmed.2015.3528
Durcan L, O'dwyer T, Petri M. Seminar Management strategies and future directions for systemic lupus erythematosus in adults. Lancet 2019;393(10188):2332-43. DOI: https://doi.org/10.1016/S0140-6736(19)30237-5
Fava A, Petri M. Systemic lupus erythematosus: Diagnosis and clinical management. J Autoimmun 2019;96:1–13. DOI: https://doi.org/10.1016/j.jaut.2018.11.001
Fanouriakis A, Tziolos N, Bertsias G, Boumpas DT. Update in the diagnosis and management of systemic lupus erythematosus. Ann Rheum Dis 2021;80(1):14-25. DOI: https://doi.org/10.1136/annrheumdis-2020-218272
Brown S. Systemic lupus erythematosus [Internet]. Nursing Times. 2003 [cited 2022 May 9]. p. 30. Available from https://www.nursingtimes.net/clinical-archive/immunology/systemic-lupus-erythematosus-07-10-2003/
Bijlsma JWJ, Hachulla E. Eular Textbook on Rheumatic Diseases. 2nd ed. Adwan M, editor. Saudi Medical Journal 2015;36:476–505.
Munroe ME, Young KA, Kamen DL, Guthridge JM, Niewold TB, Costenbader KH, et al. Discerning Risk of Disease Transition in Relatives of Systemic Lupus Erythematosus Patients Utilizing Soluble Mediators and Clinical Features. Arthritis Rheumatol. 2017;69(3):630-42. DOI: https://doi.org/10.1002/art.40004
Tselios K, Gladman DD, Touma Z, Su J, Anderson N, Urowitz MB. Disease course patterns in systemic lupus erythematosus. Lupus 2019;28(1):114-22. DOI: https://doi.org/10.1177/0961203318817132
Mikdashi J, Nived O. Measuring disease activity in adults with systemic lupus erythematosus: The challenges of administrative burden and responsiveness to patient concerns in clinical research. Arthritis Res Ther. 2015;17(1):183. DOI: https://doi.org/10.1186/s13075-015-0702-6
Mithal A, Wahl DA, Bonjour JP, Burckhardt P, Dawson-Hughes B, Eisman JA, et al. Global vitamin D status and determinants of hypovitaminosis D. Osteoporos Int. 2009;20(11):1807-20. DOI: https://doi.org/10.1007/s00198-009-0954-6
Prietl B, Treiber G, Pieber TR, Amrein K. Vitamin D and immune function. Nutrients. 2013;5(7):2502–21. DOI: https://doi.org/10.3390/nu5072502
Iruretagoyena MI, Wiesendanger M, Kalergis AM. The Dendritic Cell-T Cell Synapse as a Determinant of Autoimmune Pathogenesis. Curr Pharm Des. 2006;12(2):131-47. DOI: https://doi.org/10.2174/138161206775193145
Subramanian K, Bergman P, Henriques-Normark B. Vitamin D Promotes Pneumococcal Killing and Modulates Inflammatory Responses in Primary Human Neutrophils. Journal of Innate Immunity. 2017;9(4):375–86. DOI: https://doi.org/10.1159/000455969
Bishop EL, Ismailova A, Dimeloe S, Hewison M, White JH. Vitamin D and Immune Regulation Antibacterial, Antiviral, AntiInflammatory. JBMR Plus. 2020;5(1):e10405. DOI: https://doi.org/10.1002/jbm4.10405
Hayes CE, Hubler SL, Moore JR, Barta LE, Praska CE, Nashold FE. Vitamin D actions on CD4+ T cells in autoimmune disease. Front Immunol. 2015;6:100. DOI: https://doi.org/10.3389/fimmu.2015.00100
Daniel C, Sartory NA, Zahn N, Radeke HH, Stein JM. Immune modulatory treatment of trinitrobenzene sulfonic acid colitis with calcitriol is associated with a change of a T helper (Th) 1/Th17 to a Th2 and regulatory T cell profile. Journal of Pharmacology and Experimental Therapeutics. 2008;324(1):23–33. DOI: https://doi.org/10.1124/jpet.107.127209
Chambers ES, Suwannasaen D, Mann EH, Urry Z, Richards DF, Lertmemongkolchai G, et al. 1α,25-dihydroxyvitamin D3 in combination with transforming growth factor-β increases the frequency of Foxp3+ regulatory T cells through preferential expansion and usage of interleukin-2. Immunology. 2014;143(1):52–60. DOI: https://doi.org/10.1111/imm.12289
Basile LA, Taylor SN, Wagner CL, Quinones L, Hollis BW. Neonatal vitamin D status at birth at latitude 32°72′: Evidence of deficiency. Journal of Perinatology. 2007;27(9):568–71. DOI: https://doi.org/10.1038/sj.jp.7211796
Roth DE, Abrams SA, Aloia J, Bergeron G, Bourassa MW, Brown KH, et al. Global prevalence and disease burden of vitamin D deficiency: a roadmap for action in low- and middle-income countries. Ann N Y Acad Sci. 2018;1430(1):44-79. DOI: https://doi.org/10.1111/nyas.13968
Kamen DL. Vitamin D in Lupus: New Kid on the Block? Bulletin of the NYU Hospital for Joint Diseases 2010;68(3):218.
Disanto G, Chaplin G, Morahan JM, Giovannoni G, Hyppönen E, Ebers GC, et al. Month of birth, vitamin D and risk of immune-mediated disease: a case control study [Internet]. 2012. Available from: http://www.ons.gov.uk/ DOI: https://doi.org/10.1186/1741-7015-10-69
Ramagopalan SV, Heger A, Berlanga AJ, Maugeri NJ, Lincoln MR, Burrell A, et al. A ChIP-seq defined genome-wide map of vitamin D receptor binding: Associations with disease and evolution. Genome Research. 2010;20(10):1352–60. DOI: https://doi.org/10.1101/gr.107920.110
Yang CY, Leung PSC, Adamopoulos IE, Gershwin ME. The implication of vitamin D and autoimmunity: A comprehensive review. Clinical Reviews in Allergy and Immunology. 2013;45:217–26. DOI: https://doi.org/10.1007/s12016-013-8361-3
Lee YH, Bae SC, Choi SJ, Ji JD, Song GG. Associations between vitamin D receptor polymorphisms and susceptibility to rheumatoid arthritis and systemic lupus erythematosus: A meta-analysis. Molecular Biology Reports. 2011;38(6):3643–51. DOI: https://doi.org/10.1007/s11033-010-0477-4
Souto MID, Coelho A, Guo C, Mendonça L, Argolo S, Papi J, et al. Vitamin D insufficiency in Brazilian patients with SLE: Prevalence, associated factors, and relationship with activity. Lupus. 2011;20(10):1019–26. DOI: https://doi.org/10.1177/0961203311401457
Stockton KA, Kandiah DA, Paratz JD, Bennell KL. Fatigue, muscle strength and vitamin D status in women with systemic lupus erythematosus compared with healthy controls. Lupus. 2012;21(3):271–8. DOI: https://doi.org/10.1177/0961203311425530
Theodoratou E, Tzoulaki I, Zgaga L, Ioannidis JPA. Vitamin D and multiple health outcomes: Umbrella review of systematic reviews and meta-analysis of observational studies and randomised trials. BMJ 2014;348:g2035. DOI: https://doi.org/10.1136/bmj.g2035
Sakthiswary R, Raymond AA. The Clinical Significance of Vitamin D in Systemic Lupus Erythematosus: A Systematic Review. PLoS One. 2013;8(1):e55275. DOI: https://doi.org/10.1371/journal.pone.0055275
Petri M, Bello KJ, Fang H, Magder LS. Vitamin D in systemic lupus erythematosus: Modest association with disease activity and the urine protein-to-creatinine ratio. Arthritis and Rheumatism. 2013;65(7):1865–71. DOI: https://doi.org/10.1002/art.37953
Abou-Raya A, Abou-Raya S, Helmii M. The effect of vitamin D supplementation on inflammatory and hemostatic markers and disease activity in patients with systemic lupus erythematosus: a randomized placebo-controlled trial. J Rheumatol. 2013;40(3):265-72. DOI: https://doi.org/10.3899/jrheum.111594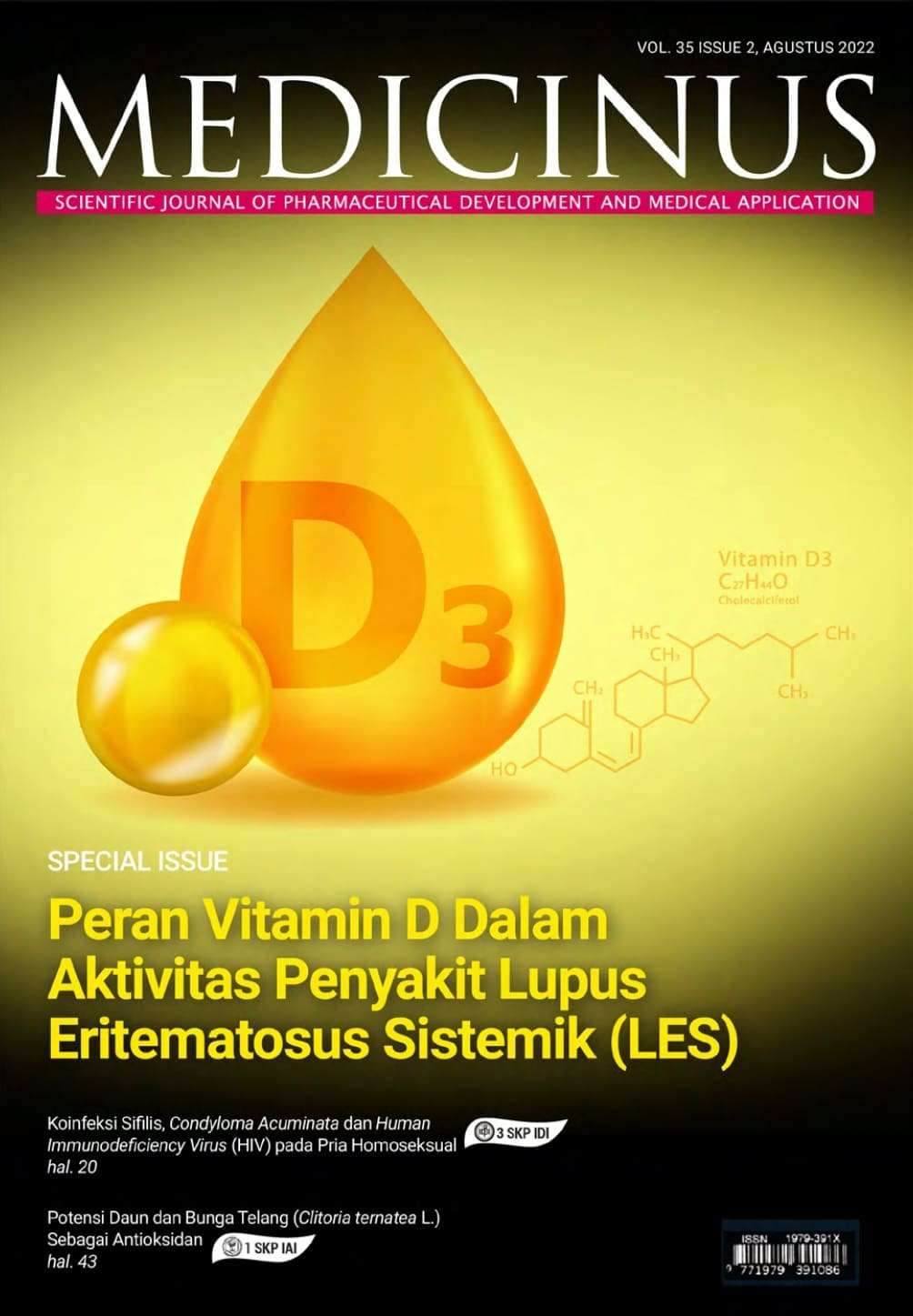 Unduhan
Cara Mengutip
[1]
Sukamto Koesnoe. Peran Vitamin D dalam Aktivitas Penyakit Lupus Eritematosus Sistemik (LES). MEDICINUS 2022;35:3-9. https://doi.org/10.56951/medicinus.v35i2.87.