Laporan Kasus Acrodermatitis Enteropathica pada Anak 5 Tahun dengan Level Zink Serum Normal
Kata Kunci:
akrodermatitis enteropatika, zink
Abstrak
Acrodermatitis enteropathica (AE) merupakan gangguan penyerapan zink yang dapat diturunkan ataupun diperoleh (acquired). Secara klinis, AE ditandai dengan munculnya dermatitis periorifisial dan akral, diare, serta alopesia. Kadar zink serum umumnya menurun pada pasien AE. Kasus: Pasien anak laki-laki berusia 5 tahun dengan keluhan luka keropeng pada wajah, badan, dan ekstremitas yang dirasakan sejak 1 tahun dan memberat selama 1 bulan terakhir. Keluhan disertai adanya kerontokan rambut dan alis, diare serta sulit makan. Tampak status gizi kurang. Pada pemeriksaan dermatovenereologi didapatkan regio perioral, periorbital, trunkus posterior, inguinal, perianal, cubiti, poplitea dan dorsum pedis tampak papul, patch, plak eritem multipel disertai dengan skuama, erosi dan sebagian area disertai krusta kuning kecoklatan di atasnya. Regio oral tampak stomatitis dan cheilitis. Regio orbita tampak injeksi konjungtiva dan sekret. Regio kulit kepala, alis dan bulu mata tampak alopesia total. Hasil pemeriksaan laboratorium menunjukkan kadar zink serum normal dan penurunan kadar alkaline phosphatase (ALP). Pasien didiagnosis dengan acquired AE. Ditemukan perbaikan klinis pada pasien setelah pemberian suplementasi zink. Diagnosis AE tidak dapat hanya didasarkan pada kadar zink serum yang rendah. Apabila ditemukan pasien dengan gejala klinis mengarah ke AE berupa dijumpainya triad klasik AE, maka diharapkan penyakit dapat segera dikenali sehingga terapi yang tepat dapat diberikan dengan cepat.
Referensi
Sutton J, Newin T. A Case of Acrodermatitis Enteropathica. J Clin Exp Dermatol Res. 2016;7(2):1-5. DOI: https://doi.org/10.4172/2155-9554.1000329
Lee SY, Jung YJ, Oh TH, Choi EH. A case of acrodermatitis enteropathica localized on the hands and feet with a normal serum zinc level. Ann Dermatol. 2011;23(Suppl 1):S88–90. DOI: https://doi.org/10.5021/ad.2011.23.S1.S88
Wu D, Fung MA, Kiuru M, Sharon VR. Acquired bullous acrodermatitis enteropathica as a histologic mimic of pemphigus foliaceus in a patient on parenteral nutrition. Dermatol Online J. 2017;23(7):1–4. DOI: https://doi.org/10.5070/D3237035735
Rana J, Plovanich M, Wallace EB, Yang C, Canales AL, Mostaghimi A. Acquired acrodermatitis enteropathica after gastric bypass surgery responsive to IV supplementation. Dermatol Online J. 2016;22(11):13030/qt50v2f3mb. DOI: https://doi.org/10.5070/D32211033150
Jagadeesan S, Kaliyadan F. Acrodermatitis enteropathica. Tersedia di: https://www.ncbi.nlm.nih.gov/books/NBK441835. Diunduh 14 Februari 2019.
Satria B, Chen W, Soebono H, Radiono S, Danarti R. Concurrence of Acrodermatitis Enteropathica and Eczema Herpeticum in a Child with Atopic Dermatitis. Case Rep Dermatol. 2019;11(3):240-8. DOI: https://doi.org/10.1159/000502509
Matta Ain AC, Valente ES, Mallozi MC, Sarni ROS, Furquim M, Sole D. Acrodermatitis enteropathica-like simulating severe atopic dermatitis: a case report. Allergol et Immunopathol. 2008;36(3):176-9. DOI: https://doi.org/10.1157/13124724
Mack D, Koletzko B, Cunnane S, Cutz E, Griffiths A. Acrodermatitis enteropathica with normal serum zinc levels: diagnostic value of small bowel biopsy and essential fatty acid determination. Gut 1989; 30:1426-9. DOI: https://doi.org/10.1136/gut.30.10.1426
Lim YS, Lee MW, Choi JH, Sung KJ. The clinical study of zinc deficiency presented as a skin manifestation of acrodermatitis enteropathica. Korean J Dermatol. 2000;38:155-62.
Yan AC. Cutaneous changes in nutritional disease. Dalam: Kang S, Amagai M, Bruckner AL, Enk AH, Margolis DJ, McMichael AJ, dkk (editor). Fitzpatrick's Dermatology. Edisi ke-9. Amerika Serikat: Mc Graw Hill. 2019:2199-233.
Ciampo IRLD, Sawamura R, Ciampo LAD, Fernandes MIM. Acrodermatitis Enteropathica: Clinical Manifestations and Pediatric Diagnosis. Rev Paul Pediatr. 2018;c36(2):238–41. DOI: https://doi.org/10.1590/1984-0462/;2018;36;2;00010
Brandt T. Dermatitis in children with disturbances of general condition and absorption of food elements. Acta Derm Venereol. 1936;17:513-37.
Danbolt N. Acrodermatitis enteropathica. Acta Derm Venereol 1951;31:453-4.
Perafan-Riveros C, Franca LF, Alves AC, Sanches JA. Acrodermatitis enteropathica: case report and review of the literature. Pediatr Dermatol. 2002;19:426–31. DOI: https://doi.org/10.1046/j.1525-1470.2002.00200.x
Aggett PJ. Acrodermatitis enteropathica. J Inherit Metab Dis. 1983;6(Suppl 1):39-43. DOI: https://doi.org/10.1007/BF01811322
Van Wouwe JP. Clinical and laboratory diagnosis of acrodermatitis enteropathica. Eur J Pediatr. 1989;149:2–8. DOI: https://doi.org/10.1007/BF02024322
Gutierrez-Gonzalez E, Alvarez-Perez A, Loureiro M, Sanchez-Aguilar D, Toribio J. Acrodermatitis enteropathica in a breast-fed infant. Actas Dermosifiliogr. 2012;103:170–2. DOI: https://doi.org/10.1016/j.adengl.2012.03.012
Scrivener Y, Bessis D. Dermatoses carentielles. Dalam: Manifesta- tions dermatologiques des maladies d'organes. Springer-Verlag. 2012;4:45–62. DOI: https://doi.org/10.1007/978-2-287-72073-4_4
Broberg A. Pityrosporum ovale and infatile seborrheic dermatitis. Eur J Pediat Dermatol. 2018;1(3):163-65.
Maverakis E, Fung MA, Lynch PJ, Draznin M, MIchael DJ, Ruben B, dkk. Acrodermatitis enteropathica and an overview of zinc metabolism. J Am Acad Dermatol. 2007;56:116–24. DOI: https://doi.org/10.1016/j.jaad.2006.08.015
Corbo MD, Lam J. Zinc deficiency and its management in the pediatric population: a literature review and proposed etiologic classification. J Am Acad Dermatol.2013;69:616–24 e1. DOI: https://doi.org/10.1016/j.jaad.2013.04.028
Glutsch V, Hamm H, Goebeler M. Zinc and skin: an update. J Dtsch Dermatol Ges. 2019;17(6):589-96. DOI: https://doi.org/10.1111/ddg.13811
Argemi J, Serrano J, Gutierrez MC. Serum zinc binding capacity in pregnant women. Ann Nutr Metab 1988;32:121–6. DOI: https://doi.org/10.1159/000177424
Beigi P, Maverakis E. Acrodermatitis Enteropathica. A Clinician's Guide. Tersedia dari: http://link.springer.com/book/10.1007% 2F978-3-319-17819-6. Diunduh 25 November 2019.
Yanagisawa H. Zinc deficiency and clinical practice. JMAJ. 2004;47:359–64.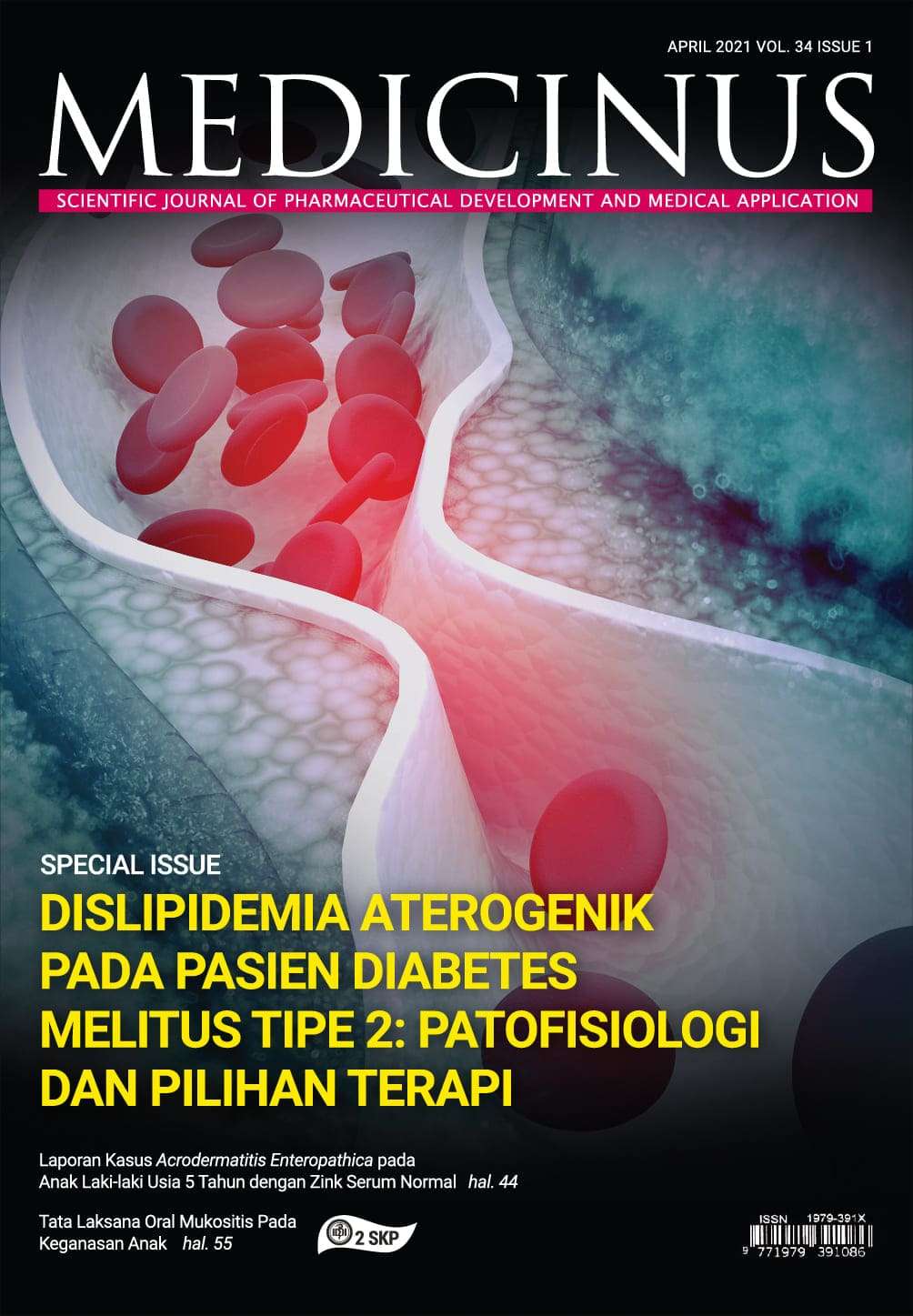 Unduhan
Cara Mengutip
[1]
Adniana Nareswari, Moerbono Mochtar, Suci Widhiati, Arie Kusumawardani, Endra Yustin Ellistasari, Indah Julianto. Laporan Kasus Acrodermatitis Enteropathica pada Anak 5 Tahun dengan Level Zink Serum Normal. MEDICINUS 2021;34:44-9. https://doi.org/10.56951/medicinus.v34i1.51.