Ekokardiografi pada Gagal Jantung
Kata Kunci:
2D echocardiography, 3D echocardiography, heartfailure, strain
Abstrak
Heart failure (HF) is a leading cause of cardiovascular morbidity and mortality worldwide. Clinical diagnosis of HF is often challenging because the symptoms and signs of HF are either too nonspecific or too infrequent. Echocardiography, given its safety, easy availability, and the ability to permit a comprehensive assessment of cardiac structure and function, is an indispensable tool in the evaluation and management of patients with heart failure (HF). It can also detect and define the hemodynamic and morphologic changes in HF over time and might be equivalent to invasive measures in guiding therapy. The early detection of heart failure has been facilitated by the assessment of global longitudinal strain, which is also useful in later heart failure for the assessment of left ventricular synchrony.The use of echocardiography has been associated with favorable outcomes, probably onthe basis of facilitation of appropriate therapy. Although the guidelines emphasize that no singletest satisfies all imaging requirements in heart failure, and other modalities can provide additional information about specific questions (especially tissue characterization), echocardiography is indispensable in the management of heart failure.
Referensi
Piotr Ponikowski, Adriaan AV,Stefan DA, et al. 2016 ESC Guidelines for the diagnosis and treatment of acute and chronic heart failure: The Task Force for the diagnosis and treatment of acute and chronic heart failure of the European Society of Cardiology (ESC) Developed with the special contribution of the Heart Failure Association (HFA) of the ESC. European Heart Journal.2016;37: 2129–2200. doi.org/10.1093/eurheartj/ehw128
Roger L 2013,'Circulation Research',Epidemiology of Heart Failure,Vol.113, No.6,hh 646-659.
Otto C M 2007, The practice of clinical echocardiography, 3rd edn. Saunders, London.
Feigenbaum H. 2005 Echocardiography, 6th edn. Lea & Febiger, Philadelphia
Marwick TH,2015,The Role of Echocardiography in Heart Failure, J Nucl Med. 56:31S–38S: 10.2967/jnumed.114.150433
Kirkpatrick JN, Mani AV, Jagat Narula, Roberto ML, 2007, Echocardiography in Heart Failure',J.ACC,V.50,No5, doi: 10.1016/j.jacc.2007.03.048
Mor-Avi V, Lang RM, Badano LP, et al, 2011, Current and evolving echocardiographic techniques for the quantitative evaluation of cardiac mechanics: ASE/EAE consensus statement on methodology and indications endorsed by the Japanese Society of Echocardiography. J Am Soc Echocardiogr. 24: 277–313. doi: 10.1016/ j.echo.2011.01.015
Omar AMS, Bansal M, Sengupta PP,2026, Advances in Echocardiographic Imaging in Heart Failure With Reduced and Preserved Ejection Fraction. Circ Res. 119:357-374. DOI: 10.1161/CIRCRESAHA.116.309128
Thavendiranathan P, Grant AD, Negishi T, et al, 2013, Reproducibility of echocardiographic techniques for sequential assessment of left ventricular ejection fraction and volumes: application to patients undergoing cancer chemotherapy. J Am Coll Cardiol.61:77–84
O'Rourke MF, Safar ME, Dzau V 2010,'The cardiovascular continuum extended', Aging effects on the aorta and microvasculature. Vasc Med.15(6):461-8
National Institute for Health and Care Excellence, 2014, Implantable cardioverter defibrillators and cardiac resynchronisation therapy for arrhythmias and heart failure (review of TA95 and TA120). London: NICE, Available from: http://guidance.nice.org.uk/ta314.
Marwick T 2013,'Methods used for the assessment of LV systolic function: common currency or tower of Babel Heart', 99:1078–1086.
Komajda M, Lam CS,2014, Heart failure with preserved ejection fraction: a clinical dilemma. Eur Heart J. 35:1022–1032. doi: 10.1093/eurheartj/ehu067
Chung CS, Shmuylovich L, Kovács SJ, 2015, What global diastolic function is, what it is not, and how to measure it, Am J Physiol Heart Circ Physiol.309:H1392–H1406. doi: 10.1152/ajpheart.00436.2015.
Melenovsky V, Hwang SJ, Redfeld MM, Zakeri R, Lin G, Borlaug BA, 2015, Left atrial remodeling and function in advanced heart failure with preserved of reduced ejection fractio, Circ Heart Fail,8:295-303, doi:10.1161/CIRCHEARTFAILURE. 144.001667
Burke MA, Katz DH, Beussink L, Selvaraj S, Gupta DK, Fox J,cChakrabarti S, Sauer AJ, Rich JD, Freed BH, Shah SJ, 2014, Prognostic importance of pathophysiologic markers in patients with heart failure and preserved ejection fraction. Circ Heart Fail,7:288–299. doi: 10.1161/CIRCHEARTFAILURE.113. 000854
Park JH, Negishi K, Grimm RA, Popovic Z, Stanton T, Wilkoff BL, Marwick TH, 2013, Echocardiographic predictors of reverse remodeling after cardiac resynchronization therapy and subsequent events. Circ Cardiovasc Imaging,6:864–872. doi: 10.1161/CIRCIMAGING.112.000026
Thavendiranathan P, Phelan D, Thomas JD, Flamm SD, Marwick TH, 2012, Quantitative assessment of mitral regurgitation: validation of new methods. J Am Coll Cardiol, 60:1470–1483. doi: 10.1016/j.jacc.2012.05.048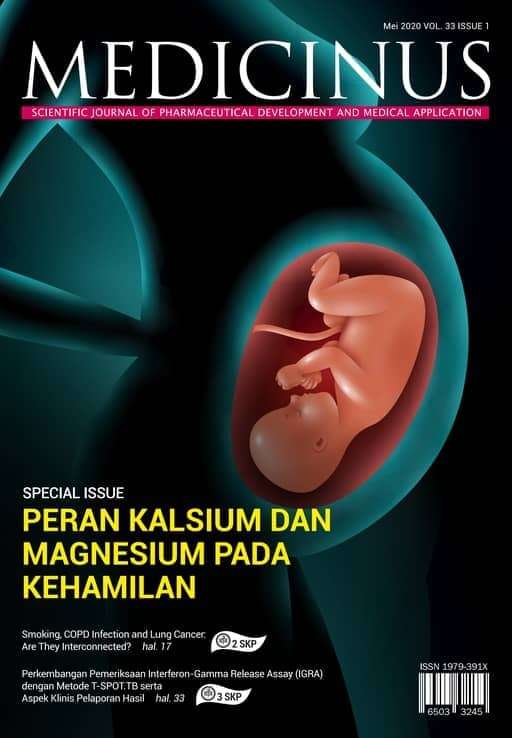 Unduhan
Cara Mengutip
1.
Rahmianti ND, Trisna NPA. Ekokardiografi pada Gagal Jantung. MEDICINUS [Internet]. 1 Mei 2020 [dikutip 11 Agustus 2022];33(1):43-7. Tersedia pada: https://medicinus.co/journal/article/view/medicinus-vol33-no1-43-47